Updated April 7, 2020
As a therapist, I have seen my fair share of therapy fads over the years. Most fade away, but some stick around. Undoubtedly, the new wave of counseling is online. The advertisements claim that BetterHelp is an affordable, convenient way of doing counseling anywhere, anytime.
Sounds great, but I wanted to test if the new kids on the block can deliver. I wanted to test it from start to end and get an in-person feel for the experience. Along the way I was pleasantly surprised, and occasionally disappointed. This is what I learnt.
OpenCounseling is user-supported. We should note that BetterHelp is an affiliate partner of OpenCounseling and we earn a commission if you subscribe to them after you follow a link from this site. We take objectivity seriously. We never accept gifts and pay for all our subscriptions out of our own pocket. You can learn more about our policies regarding affiliates
here
.
Tip: We put together a very detailed companion article: Read our Frequently Asked Questions for BetterHelp.
The Sign-Up Process
The sign-up process was very easy and could be done from either their mobile app or website. It took just 5 minutes and consisted of a brief questionnaire asking basic questions. In the end, there was a place to write a short description of the main issue you were seeking help with.
Most of the questions seemed designed to match you with a therapist that would be a good fit, while some of the questions seemed to determine if you were appropriate for online counseling. For example, if you are suicidal, online counseling would not be a good choice.
We should say that it is not a simple decision whether online counseling is right for you or not. I spent some time talking to colleagues about who is best suited for online therapy. There were heated discussions, but a consensus seemed to arise. In short, the more severe the symptoms, the more likely in-person therapy should be chosen. The less severe the symptoms and the more important flexibility, the more online therapy became a good alternative.
BetterHelp Pricing (Updated April, 2020)
BetterHelp also offers financial aid for people who qualify. When you sign-up and are choosing your subscription level, you are given the opportunity to apply. The application process is fairly straight-forward and seems to be based on you giving a good-faith representation of your ability to pay.
To sign up with BetterHelp click here.
Starting Therapy
To my delight, it took just a few hours before I was assigned my therapist. BetterHelp says this can take up to 24 hours. I was excited to get the part of the therapy experience where I could get help with my issues. I took a moment to reflect on how quickly I had arrived here. In traditional face-to-face therapy, you often contact a therapist by phone to set up an appointment and leave a voicemail. Then, you wait for their reply. Often therapists you contact may not even return your call if they are not taking clients. Once you do manage to reach them, it can then take a week or two until you set up your first appointment.
BetterHelp had brilliantly removed all of this hassle from the process. The emotional benefit of this was huge for me. The sense of control that came from being able to rapidly begin working on an important issue for me gave me a sense of relief that was lacking. Nicely done BetterHelp.
Messaging Therapy with BetterHelp
I started out messaging back and forth with my therapist. With BetterHelp, you can send as many messages as you want to your therapist at any time of the day or night. They advertise this as "unlimited sessions", but in reality, the therapist will only reply to you once or twice a day. That said, it was wonderful to write my thoughts down as I had them. I was surprised how the instant outlet of the service helped. I know that the therapist was not reading my messages instantly, but it was good to know that they would.
Scheduling a Live Video and Phone Session
As good as messaging is, an important part of the therapy experience is real-time interaction. BetterHelp offers three choices: real-time chat, phone calls, and live video chat. All three are set up with the same scheduling system. At the bottom of your private "room" with your therapist, you can click a button labeled "Schedule live session." This process was smooth, convenient, and seemed to account for any time-zone differences. The actual in-person sessions were professional and I was far more at ease with my therapist after having face-to-face contact. Online therapy will never feel quite the same as the experience of in person therapy, but overall the experience was still good.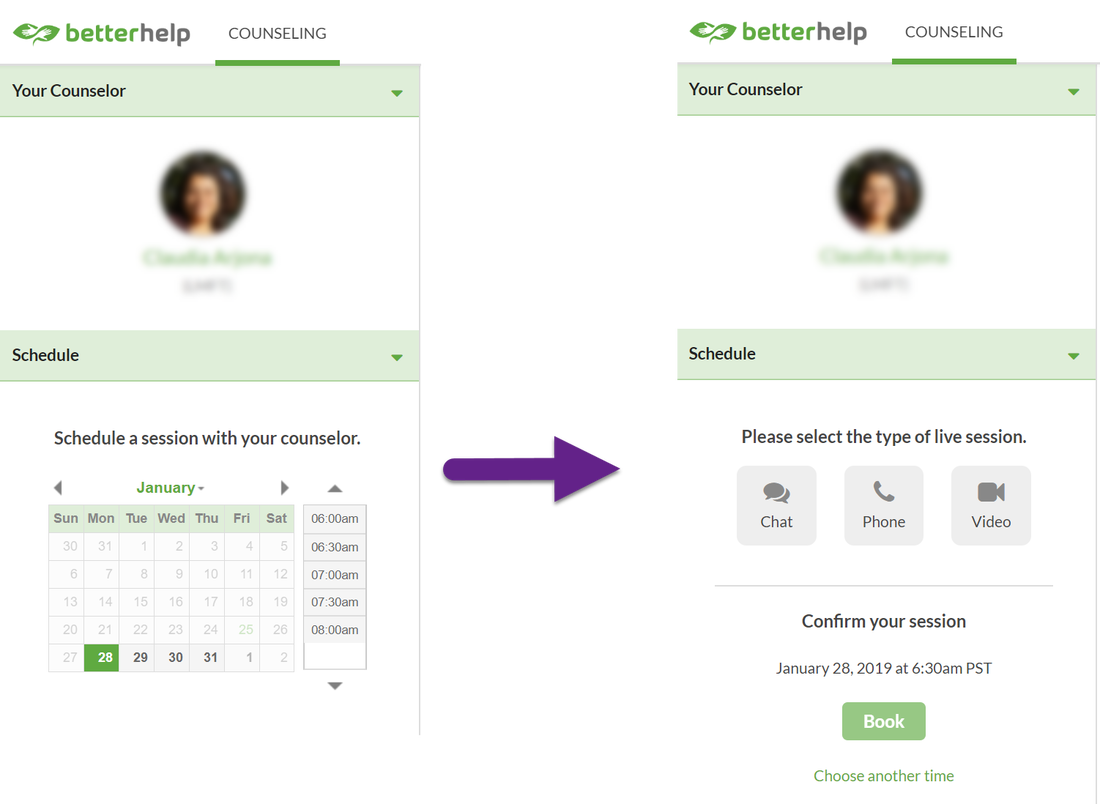 BetterHelp does not limit the number of live sessions, but rather you and your therapist arrive at a mutually agreed number. In our experience, we were able to get one live session per week. With some therapists these were 30 minute sessions, with others it was 60 minutes. With BetterHelp it can be a bit of a lottery how many live sessions you will be able to have. I found it uncomfortable to only learn this once I had signed-up and matched to a therapist. Fortunately it is easy to change therapists with BetterHelp. If you sign-up for BetterHelp and your therapist does not offer you frequent live sessions, I would suggest you switch therapists to one that does.
Changing Therapists
I wanted test every aspect BetterHelp and that meant trying a different therapist. BetterHelp makes it easy to change therapists. It's simply a matter of choosing one of the options on the menu to switch counselors. This seemed really important. One of the issues with going with a service like BetterHelp is that you do not get to choose the actual therapist you'll be seeing. The ability to easily change therapists without any awkward conversations with them was very reassuring for me. In some sense, it may even be easier than traditional face-to-face counseling, because in traditional face-to-face counseling there is the awkwardness of rejecting your therapist. With online counseling, the anonymity and the ability to use the BetterHelp staff as the intermediary meant that I never had to face any of that discomfort.
After answering a very simple questionnaire (as seen above), I then received confirmation that I was being matched to another counselor in their database fitting the description I had indicated on the form.
I found my second therapist to offer a very different experience from my first one. Both were good, but just different. This confirmed my suspicion that a large part of the therapy experience with BetterHelp will be based upon the specific therapist that is helping you. This is similar to face-to-face therapy. BetterHelp provides a certain platform and infrastructure, but in many ways your final experience will depend on the specific therapist you end up seeing. I found both my therapists to be helpful and just the sort of people that I would want to confide in. The wonderful thing is that BetterHelp makes it easy for you to try a few different therapists to find just the right fit.
Ending My Service
Quitting counseling with BetterHelp was very easy. It is just a short form that you need to fill out and they will cancel your subscription. If you indicate that you are quitting for financial reasons, BetterHelp offers you the opportunity to apply for financial aid. At OpenCounseling, we care deeply about making affordable for everyone. It is nice to see that BetterHelp cares too.
Summary
Overall, I can say I was very satisfied with my experience at BetterHelp. My main concern was because it was not clear up-front how many live sessions you get with your therapist. This you can get around by doing your homework and switching therapists if needed. Then there is also the larger question of whether you personally are a good fit for online therapy. There is no easy answer for this question which in many ways is subjective. However if you are one of those people who is a good fit, then BetterHelp can be an excellent choice. Click here to visit BetterHelp.



App & Web Features
Live Sessions
Text Messaging
Price
$260 per month to message your therapist with "unlimited" live sessions (telephone, video and live chat).

The exact number of live sessions is agreed on between you and your therapist.
Overall



About the Writing of This Article
We had three different team members of OpenCounseling try BetterHelp for over a month each. This review is an amalgam of our experiences using BetterHelp as any client would. This research was headed by Mark Pines, a Licensed Marriage and Family Therapist. Mark Pines also took 30 hours on coursework in online therapy and attended a clinical workshop exploring the hopes and limitations of online therapy. We have changed personal details to protect the privacy of the therapists and clients. Through our extensive research we have attempted to give you all the information you need to make a safe and informed decision. Of course, please consult with a mental health professional about your unique situation.